Trailers

Trailers Overview

With over 135+ years of combined experience designing and engineering trailers, we have designed solutions to meet your exact needs. Learn More

Custom Trailers

Custom Trailers
Chassis
Body/Equipment Ready
Tunnelling
Container
Generator

Wardrobe
Boosters
Tipper
Custom Tilt-Decks
Communication

Terminal Trailers

More Terminal Trailers
Mafi Style Trailers
Spreader Transporters
Twin Steer Cargo Trailers
45′ Bomb Cart Style Spill Containment Trailer
Genset Transporters

Live Haul Trailers

Live Haul Trailers
Step Deck
Rolling Curtain
Automatic Roll-Up Curtain

Highway Trailers

More Highway Trailers
Convertible Grain Trains
Glass Transport Trailers
Flat Deck Trailers

Oil & Gas Trailers

Oil & Gas Trailers
Vac Chassis
Gas Transport Trailer
Well Service Trailers
Oil Spill Response Trailer
Doghouse Trailer

Forestry Trailers

AUCOS FIFTH WHEEL COUPLING SYSTEM

Magnum Trailer and Equipment Inc. is the exclusive source for AUCOS for The Americas. We provide all sales, service and after-sales support for the AUCOSystem. Magnum will retrofit your current fleet, or custom design and build to your requirements. Turn-key know-how, with you every step of the way. Learn More

Truck Accessories

Truck Accessories Overview

Magnum Trailer and Equipment Inc. is your one-stop shop for aftermarket truck accessories. Our truck accessories are designed and created with the finest material and workmanship. Learn More

Truck Accessories

Truck Accessory Testimonials
AUCOS Fifth Wheel Coupling System
Aucosystem Automatic Coupling System
Magnum Trailer and Equipment Inc. is the exclusive source for AUCOS for The Americas. We provide all sales, service and after-sales support for the AUCOSystem. Magnum will retrofit your current fleet, or custom design and build to your requirements. Turn-key know-how, with you every step of the way.
The innovative and revolutionary Aucosystem Automatic Coupling System is the world's first and only automatic coupling system which allows a patented "turn-key" auto-connection of air-electric-data through the AUCOS kingpin to the AUCOS fifth wheel. Automatically connecting all air, electric and data between the tractor and the trailer, the AUCOSystem improves safety and production efficiency by allowing the operator to remain in the cab and automating a process usually done by hand. Quicker turnaround times, improvement on throughput, and time to market advantages with quick ROI; the AUCOSystem increases driver and equipment efficiency.
The AUCOSystem is perfectly suited for applications and operations with large fleets or tractors and trailers: container terminals, forwarding agencies, ocean ports, inland ports and distribution centers.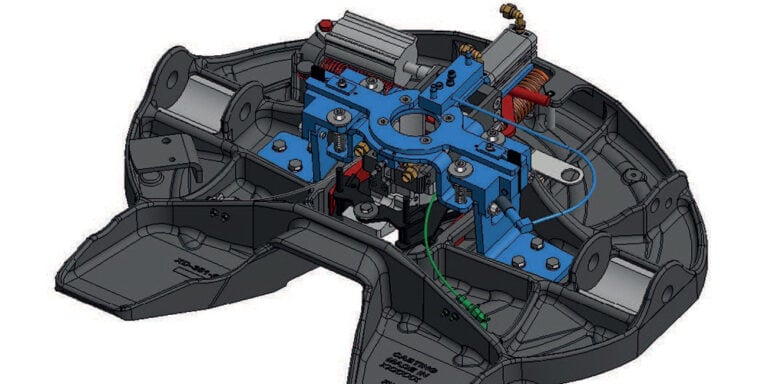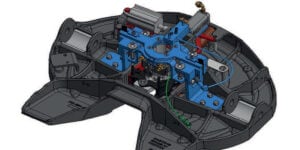 Currently, the AUCOSystem is operating in high volume and critical sites in Europe, The United States, and Canada. AUCOS customers have experienced dramatic reductions in operator injuries and up to a 30% increase of throughput after commissioning the AUCOS solution using the same fleet. Our customers have also taken advantage of the efficiencies delivered by using AUCOS to rework their previous operational processes and optimize their operations;  providing these enterprises with further advantages while competing in a global market. So far, there has been over a million coupling and uncoupling processes with smooth and trouble-free operations, and that number continues to grow.
Each AUCOSystem is completely "Made in Germany" by RMM, and every AUCOSystem undergoes specific and complex final tests prior to serving our AUCOS clients. Users of AUCOS go through detailed training for operation and service of the solution to ensure they receive maximum benefits and smooth trouble-free operations. Magnum and RMM are with you throughout the entire process; 100% quality, 100% service dedication.